Alistair Duncan – Specialist Pharmacist in Palliative Care
"I wanted to get a more rounded experience of palliative care."
Alistair Duncan is a qualified pharmacist working in an NHS palliative care unit called Roxburghe House in Aberdeen. He chose to specialise in palliative care after several years in a general hospital setting. "I wanted to make a bigger contribution," he says. "As a hospital pharmacist you don't always see the outcome of your involvement in a patient's care, but you do here. For most people we're able to control their pain and alleviate many other symptoms so they can enjoy a good quality of life."
"We got some great support from the Librarian Service at Princess Alice."
Alistair heard about the European Certificate in Essential Palliative Care Course because Roxburghe House is one of the regional centres through which Princess Alice Hospice offer the course to professionals working in palliative care. "I believe Princess Alice run the course at centres all over the UK and even in Malta," he says.
The course lasted eight weeks and study was by distance learning. "I'd study in my lunch hour," he says. "You work through a work book and there's a reflective portfolio where you write about a specific case."
He was very impressed with the support from the Librarian Service at Princess Alice Hospice. "They provided papers and also hosted a study skills course which is really useful when you've not studied for years."
"It's for anyone who works in palliative care."
At the end of the course there was an assessment day with  written and oral exams   – all carried out at Roxburghe House. He is also keen to stress that the course really is for everyone. "There were doctors and nurses on my course too. We all followed the same syllabus but obviously the portfolios we produced were specific to our different roles."
As a pharmacist in palliative care, an important part of Alistair's role is to educate other professionals: doctors, nurses and local pharmacists working in the community. He says he's happy to recommend the course to others and sees a time when he himself may help out with tutoring.
What does Alistair feel he has got out of the course?  "It's really helped me understand how my role fits in with the rest of the care team. I really feel part of that team. Also, as I work face to face with patients and families, the course has really helped me build those relationships and explain what I can offer them."
Martin Garbett – Director of community services at The Whiteley Village
"We've developed a strong partnership with Princess Alice Hospice"
At Princess Alice Hospice, we believe that everyone should have receive outstanding end of life care. To help ensure that more people in our community get the care they deserve, we share our expertise with other care organisations. One of them is The Whiteley Village, which provides social housing and a nursing home for elderly people.
"We have a competent and confident team for end of life care"
Martin Garbett is director of community services at The Whiteley Village. Many of his care home staff have received training by Princess Alice Hospice under the 'Together 2 Care'  project. "All our nurses take the the European Certificate in Essential Palliative Care and the care staff take the City & Guilds QCF Level 3 Awareness of End of Life Care. And, as well as the formal training, our staff have had the chance to get great experience shadowing Princess Alice Hospice staff at the Hospice and in the community."
"Our expertise is recognised by the Gold Standards Framework"
This training has really made a difference to the standard of care the home offers. "It means that all our staff are confident in caring for our patients and their families – and that sets us apart from other homes where staff are not qualified." Martin is really proud that the home has now been awarded commended status by the Gold Standards Framework, by which care providers are assessed. But he's even prouder of all the positive feedback he's had from patients and families. "Our end of life care is the thing we get the most compliments about," he says, "It's great to hear that we're getting it right."
"It's great to work with an organisation that shares our values"
Working with Princess Alice Hospice has been a positive experience for both sides. Martin puts this down to compatibility between the two organisations. "We like to work with like-minded people. Just like Princess Alice Hospice, we respect the people we care for. We treat the person not the illness." He has also found that the partnership brings other benefits, like access to Hospice services and valuable support. "I know I can pick up the phone if I need some back-up – that's very reassuring."
Margie Malthouse – SAGE and THYME participant
"I think everyone in the world should do this course!"
Margie Malthouse is the coordinator of two pioneering services offered by the Hospice: our Hospice Neighbours and Carer Companions schemes. As so much of her job and the work her volunteers do is about listening, she was encouraged to take part in a communications workshop called SAGE and THYME, run by our education department.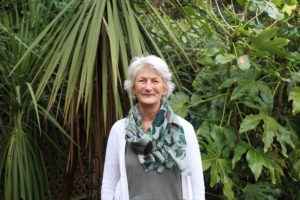 "At first I thought "please don't make me do it"
It's fair to say that she was not keen at first. "I'd done courses like this in my previous jobs," she says, "In fact I'd done the same listening skills course 16 times!" But eventually, Margie decided to give it a go. And she's so glad she did.
"It made me realise how many people don't listen. The course teaches you to be mindful of things. For example, the 'S' in 'SAGE' stands for Setting: always check with the person you're talking to that this is a good time and place for them to talk.
I also liked the fact the course was concise – it lasted just half a day and took place in the Hospice. After that, we had regular meetings to remind us to keep putting what we'd learnt into practice."
"This course gives you skills for life"
Margie believes the course hasn't just helped her with her job – it teaches important skills for everyday life. "The course teaches you to recognise signs of psychological distress in another person and to avoid causing them harm. It also helps you communicate honestly and compassionately. And another really important thing – it helps you recognise when you have reached the boundary beyond which you're not qualified to help."
Many of the volunteers who work as Hospice Neighbours or Carer Companions have also benefitted from the course.  "The skills they need in their role are different to those you need in ordinary conversations. When you're dealing with someone who is in a difficult, painful situation, it's important to just listen before asking if they have had a chance to think through their own options  – and then to ask whether there are ways you can help, rather than trying to impose solutions.
Margie feels that doing the SAGE and THYME course has given her and her volunteers a lot more confidence in their roles. She's happy to recommend it to others. "This is a good, short course and it hits the spot. And I'm delighted I was bullied into it!"